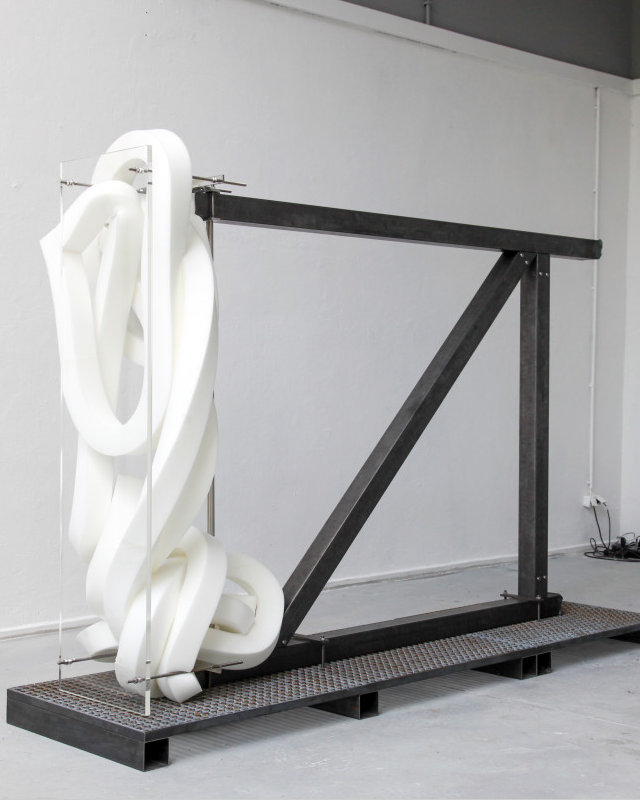 UY STUDIO is always welcoming artists into our space and community. This time we are  happy to be showcasing "House of the Others : TRUSS-t #4, 2022" by Shinoh Nam at our Berlin Studio for the opening of our newly renovated showroom for Gallery Weekend in Berlin. 
ABOUT THE ARTIST:
Shinoh Nam was born in South Korea (1993) and lives and works in Berlin. He received a Meisterschüler Diploma from Monica Bonvicini at the Universität der Künste in Berlin (2018 - 2022) and previously studied Fine Art and Architecture at the Kunstakademie Düsseldorf with Donatella Fioretti, Lothar Hempel, Rita Mcbride, Jürgen Drescher (2015-2021).

Shinoh Nam's work examines the fragmentation of architecture and the resulting ruin. He combines virtual and existing structures to create unique perspectives on constructing 'Existence' and the relationship between anxiety and desire. Viewers experience deformed moments as buildings that still exist in reality, appear as artifacts, and can create their own unique architecture by choosing and combining elements. This challenges symbolic norms and allows viewers to question societal Absurdities and Dogmas. Nam's works use philosophical moments, materials that respond to time, and a continuous series style to represent the refusal to be eternal. The absence of color minimizes distraction and focuses on the psychological content of his works. 
ABOUT THE ARTWORK:
House of the Others : TRUSS-t #4, 2022
The title cleverly juxtaposes the words "Truss" and "Trust," immediately piquing the viewer's interest. As they gaze upon the artwork, they are greeted with the Artifact/remnants of truss structures, which have been a hallmark of large and sturdy buildings throughout the history of modern architecture. However, the soft foam structure in the piece which had previously been with the installation served as a poignant reminder of the ongoing struggle to break free from the constraints imposed by such structures.
This struggle is not unique to architecture alone, as it finds an apt metaphor in the human experience. Just as load-bearing structures support buildings from their very foundations, we are born into a world rife with social norms, oppression, and dogma. Yet, unlike buildings, we possess the innate ability to challenge these constraints and constantly strive to break free from the absurdity of the world we inhabit.
The present installation work, now transformed into the shape of artifacts following the removal of its soft foam, implicitly provokes a sense of contemplation and reflection within the viewer. The visual transformation of this work symbolizes the transience and fragility of what is often perceived as strong and permanent, invoking a deeper understanding of the temporality of existence.
Nam's artwork will be showcased from the 28th of April 2023 - 5th of May 2023.