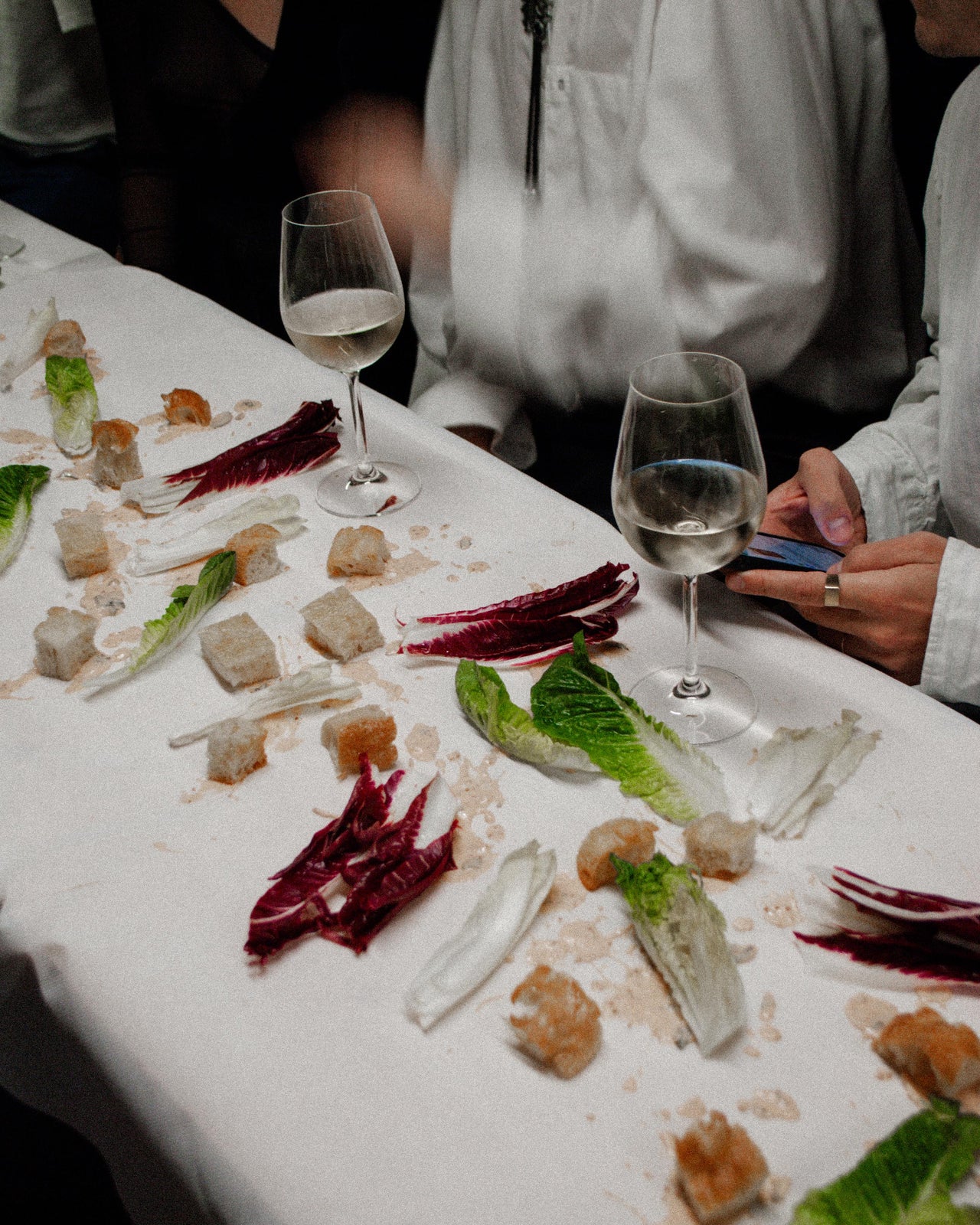 "DRIPPED" 
by GEMELLO and UY Studio 
UY Studio in collaboration with the expressive and creative chef, Gemello, hosted an extraordinary culinary evening during Berlin Art Week, "DRIPPED". 
DRIPPED presented an avant-garde dining experience, offering an all-vegan menu in the spirit of abstract artist Jackson Pollock. 
Our studio was transformed into a canvas of culinary creativity, where each course was introduced on a fresh canvas. Guests immersed themselves into the evening and took an active role in the artworks, with the act of sharing food at the heart of the experience. 
Every dish was a work of art, unfolding in front of the guests as they dipped and dragged the various elements through sauces and flavours infront of them. The appetiser included Caesars' tricolore salad, made of fresh lettuce, radicchio and chicore drenched in a juicy dressing alongside fresh focaccia cubes.
Three variations of flavour-packed boutique nano pizzas were served as the main courses, amidst homemade pickles and dips. Guests were tried each style as chef Gemello continued to serve crisp and hot pizzas throughout the seating. 
The final canvas rolled out for an indulgent finishing with a contemporary take on dessert. Fragmented pieces of fresh vanilla cake crumbles were combined with whiskey poached peaches and a tangy raspberry sauce. Leaving behind a truly Pollock-esque dining canvas. 
ABOUT THE CHEF 
Gemello is a plant-based vegan pizzeria based in Berlin. You won't believe it's fully vegan!
We are nature lovers. We express that through conscious choices for our food, ingredients and collaborations. We believe a plant-based diet is the next step of human evolution. 
Our mission is to give a full answer to vegans and vegetarians who love Italian-inspired cuisine, but usually don't have many options in  regular Italian restaurants, by offering them a completely plant-based pizza menu. 
Also we want to inspire people who are less familiar with vegan food and show them the wide range of possible flavours of a full vegan menu.
All ingredients are organic and our vegetables come from local farmers. Together, they make a light and energetic culinary sensation. The food menu is paired with a wide selection of delicious natural wines from all over Europe.
Gemello believes in equality for all and is a safe space for anyone, regardless of sexual orientation, gender, ethnicity, race or religion.
Stay tuned for our next experience. Join our newsletter to be the first to know and enjoy an unforgettable night with us. 
Chef: GEMELLO I Set Design & Creative Direction: Idan Gilony  I Photography: Sarah Butz