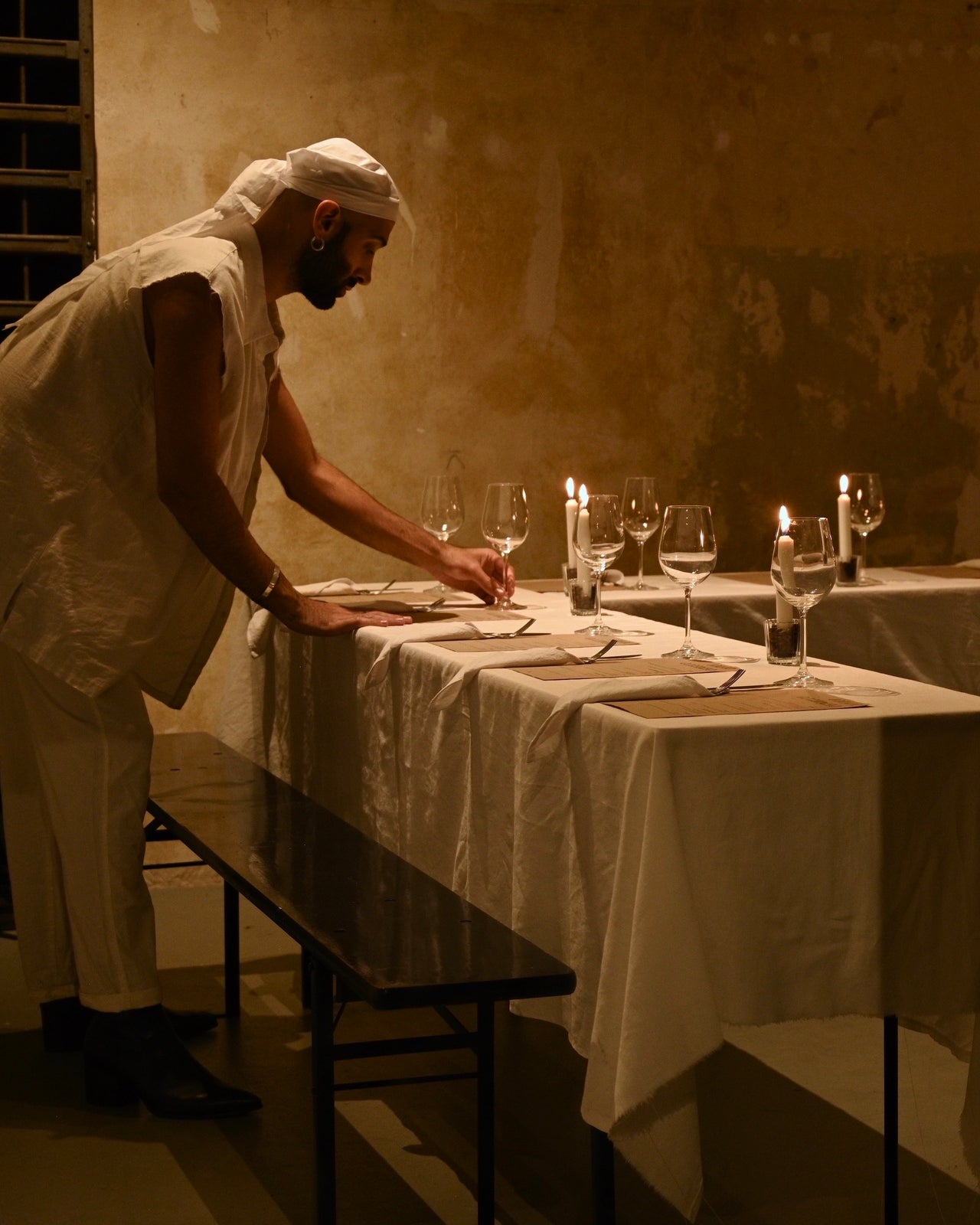 ABOUT OUR POPUP DINNER 

UY Studio's Pop-up dinner comes from a personal tradition practiced by founders Idan Gilony and Fanny Lawaetz that predates the studio itself. Idan and Fanny have always hosted Sunday brunches and themed dinner parties, gathering food lovers and chefs alike around their table for savoury dishes. The tradition continued on into UY Studio's atelier, where every Friday, a warm meal is cooked to be enjoyed by the interns and staff members. 
UY's around the table culture has always had a fabulous flair and style to it. The tradition, true to its founders, mirrors their aesthetic and what is now known as UY Studio. This ongoing tradition started expanding, including more people from the label's growing community. This inspired the founders to share their dining traditions and engage the city's community at large. 
The Pop Up dinner was then initiated during the Fall of 2019 when it opened its doors to the public.
The community event is a fine-dining experience with different twists and flavours. Each edition introduces a new Chef and a different cuisine. UY Studio's open work space is transformed into an open kitchen space seating up to 25 guests. The open space allows the guests to watch the Chefs in their element as they create each dish and its presentation, rendering it a front row seat experience of the Chef's personal food language. 
The main intention behind this event is community, to curate an intimate experience combining all senses and celebrating the finer things in life: good food and good company. It breaks the barriers between client and business and introduces a more personal dynamic between the two. Guests are encouraged to leave their expectations behind and come in with an open mind for this unforgettable social experience.

Chef Selection Process
UY Studio welcomes chefs to come and join them for their future Pop up dinners. After contact is made, a meeting is set up for a tasting menu and for both parties to get acquainted. 
For further information please contact us.
Pizza Master - Stefan Kugler Vegan Chef Artist - Nü|Bites Music - Darwesh @darwesh_51 Photography and Words - Salma ElShami @s_shamiii
UY Studio does not impose any type of restrictions to the menus created for the Pop up dinners. However, all ingredients used are and must be high-quality BIO and locally sourced products.